We are frequently adding great programming, doing ticket giveaways and much more, so stay connected with us!
Without the generosity of The Midland Theatre family and friends, we would not be what we are today. There are a number of ways you can be a part of something very special here at The Midland Theatre.
Kroger Rewards
Kroger will donate to The Midland Theatre every time you use your Kroger Plus Card!
Annual Fund Donation
Become an Annual Fund Member of $100 or more and gain ticket access before the public.
Amazon
Shop on Amazon.com using this link and Amazon will make a donation to The Midland Theatre.
Danika & The Jeb
Stage Door Cabaret Series sponsored by Huntington Bank
November 16, 2017 at 8:00pm
Tickets: $30 (some ticketing fees may apply)
Buy Tickets Online or call 740.345.5483
Buy the entire Stage Door Cabaret Series for 110* by calling 740.345.5483
Please note, tickets purchased out of state will be held in Will Call for pick up.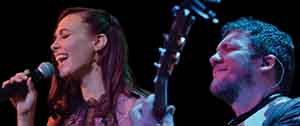 Don't let the optimistic take on life in Danika's music fool you into thinking she's never endured hardship. She has... and plenty of it. She just chose to focus the message of her music on overcoming challenges and getting through life's hardest moments in one piece, and being better for it. Danika believes music has the ability to heal. But that's not all. A well written song and performance can lead you to sing along, to laugh, or to bop your head and groove with the beat. That's what you can expect from a Danika Holmes show... not just songs, but an experience to remember.
You may have heard Danika on Sirius XM's Coffee House station or on one of 150 radio stations around the US spinning her tunes. Or maybe you saw her opening for acts such as Dierks Bentley and Phil Vassar. Or in theaters, wineries, clubs and living rooms around the US, UK and Europe in one of over 400 shows since 2010 when she decided to pursue music full time, abandoning her PhD, only a dissertation short of becoming "Dr. Holmes." But that's a different story...
In 2010, Danika joined forces with guitarist Jeb Hart, a phenomenal player who's not afraid of shredding on an acoustic guitar. Jeb's clean and sophisticated style of playing along with Danika's smooth, soulful vocals has created their own unique blend of acoustic pop. Fans come to Danika shows expecting to hear Jeb Hart on guitar the same way they know they're going to get Slash at a Guns N' Roses concert.
While the music is positive and encouraging, an occasional song veers to the dark side, addressing heartbreak and death, in particular the loss of Danika's dad to cancer, while showing a very real and genuine side to the singer-songwriter. "Balance Vol. 1" (2014) is the Nashville duo's most recent release and was generously fan funded through kickstarter, as was their most recent full band release "Living Your Dream." (2010) Danika grew up as one of five kids on the Mississippi River in a little piece of heaven known as "Iowa."
Jeb Hart is the creator of Six Month Guitar.
Jeb started playing music at age 9, starting with saxophone and then later adding guitar, bass, and drums. Throughout the years he has learned many more. In his college days he spent many hours in the studio writing and recording songs.
Jeb also filled in with hundreds of bands including blues, rock, metal, country, and even a 2 1/2 year stint with a big band. He has taught for 16 years, and has decided to perform full time with Danika Holmes. Jeb stated, "It's taken a long time to find a band that was worth pulling away from teaching for. I'm excited to see where we go in the next few years."