The Gospel Side of Elvis
with Mike Albert & the Big E Band
featuring ELVIS' Imperial Quartet
Show date:

March 24

Start time:

3:00pm

Ticket Prices:

$40-$25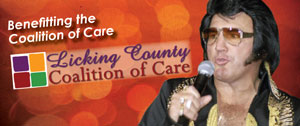 It's no secret "The King" loved Gospel music. In fact, the three wins of Elvis' 14 Grammy nominations were for Gospel recordings, including the album How Great Thou Art. In his own special way, the one and only Mike Albert reveals Elvis' Gospel side. His renditions of these sacred songs are so realistic, you'll think Elvis himself has returned!
Join the legendary Mike Albert as he reveals "the Gospel Side of Elvis," with a night of songs, stories and memories of the King. Mike's uncanny renditions of Elvis's work will be made even more real, as he is joined onstage by The Imperials— the gospel group who backed up Elvis in Las Vegas. The group features lead singer Terry Blackwood, a founding member of the Imperials, who recorded such hits as "Suspicious Minds" and "In the Ghetto" with the king of rock and roll.
Mike Albert has won several major world "Elvis" contests, and demand for his shows resulted in putting together a seven piece Big "E" Band, to emulate the sound Elvis' band had in the Vegas shows and on tour. An appearance on the Oprah Winfrey show and being featured in six music videos on the national show "A Current Affair", with Maury Povich, further exposed audiences to Mike's talent.
The actual vocal groups that backed Elvis (the legendary Jordanaires and J.D. Sumner and the Stamps quartet) have toured across the U.S., Europe and as far as Australia and New Zealand with Mike's show at many large conventions and theaters. Mike's style and charisma and his ability to get the audience involved in the show have proved to be quite the crowd pleaser. Fairs, festivals, dinner shows and large car cruises have established a long-term relationship with Mike and his band that draws sold-out crowds year after year. Highlighting Mike's career was an invitation to do the Miss Tennessee beauty pageant, with a full orchestra and choreographed dance routines, and a repeat invitation three years later.
Mike's powerful voice lends itself well to every type of Elvis' music - 50's, 60's and 70's rock and roll and love songs, as well as a very successful gospel/Christmas show. Since Elvis had so many hits, Mike makes it a point to keep the show fresh with an ever-changing song line-up! Special requests are often delivered to audiences who are "All Shook Up"!