May Erlewine
Stage Door Cabaret Series sponsored by Huntington Bank
June 15, 2023 @ 7:00pm
Tickets: $35 (some ticketing fees may apply)
Buy Tickets Online or call 740.345.5483

Please note, tickets purchased out of state will be held in Will Call for pick up.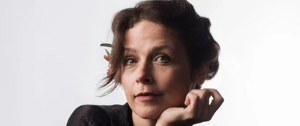 One of the Midwest's most prolific and passionate songwriters, Erlewine has a gift for writing songs of substance that feel both fresh and soulfully familiar. Her ability to emotionally engage with an audience has earned her a dedicated following far beyond her Michigan roots. She shows us her heartbreak, but she also shows us her empowered and emboldened spirit. In her quest to find her most authentic self, Erlewine gifts each listener with a powerful, emotional experience that immediately connects us.
Raised in a home full of art and music, Erlewine began writing songs at a very young age. As a teenager she hitchhiked across the country, honing her skills as a performer and absorbing the kind of stories and landscapes that would inform her music. Her songs show a very real connection and concern with everyday folk. In the following years, Erlewine would perform in every kind of venue imaginable, from street corners to festival stages to the live airwaves of A Prairie Home Companion.
With a long list of full-length albums, two EPs, and numerous collaborations, Erlewine's catalog is proof of her creative power. Her work has been spotlighted by Rolling Stone and NBC's The Voice. National acts who have covered her songs include Greensky Bluegrass, Railroad Earth, Sawyer Fredericks (Season 8 winner of The Voice), Joshua Davis (Season 8 finalist of The Voice), Lindsay Lou & The Flatbellys, and others.
Visit MayErlewine.com for more information.
We are frequently adding great programming, doing ticket giveaways and much more, so stay connected with us!
Without the generosity of The Midland Theatre family and friends, we would not be what we are today. There are a number of ways you can be a part of something very special here at The Midland Theatre.
Kroger Rewards
Kroger will donate to The Midland Theatre every time you use your Kroger Plus Card!
Annual Fund Donation
Become an Annual Fund Member.
Amazon
Shop on Amazon.com using this link and Amazon will make a donation to The Midland Theatre.