Béla Fleck My Bluegrass Heart
featuring Michael Cleveland, Sierra Hull, Justin Moses, Mark Schatz, Bryan Sutton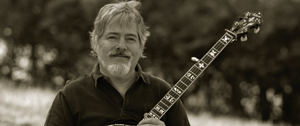 My Bluegrass Heart is that return the 16-time Grammy winner has been talking about – the third chapter in a decades-spanning trilogy which, by his counting, started with 1988's Drive and continued with The Bluegrass Sessions, released eleven years later. Over the long and lauded course of his unique creative run, Béla Fleck — the world's premier banjo virtuoso and a celebrated musical adventurer — has both dug deep into his instrument's complex global history and unlocked the breadth of its possibilities. My Bluegrass Heart is a homecoming in sound, to be sure.
My Bluegrass Heart is vividly collaborative, and part of Fleck's talent as a leader is encouraging his bandmates to shine. If the band is an amalgamation of generations, ideas and style, the songs are maybe even more so. It's not a straight bluegrass album, but it's written for a bluegrass band.
We are frequently adding great programming, doing ticket giveaways and much more, so stay connected with us!
Without the generosity of The Midland Theatre family and friends, we would not be what we are today. There are a number of ways you can be a part of something very special here at The Midland Theatre.