We are frequently adding great programming, doing ticket giveaways and much more, so stay connected with us!
Without the generosity of The Midland Theatre family and friends, we would not be what we are today. There are a number of ways you can be a part of something very special here at The Midland Theatre.
Kroger Rewards
Kroger will donate to The Midland Theatre every time you use your Kroger Plus Card!
Annual Fund Donation
Become an Annual Fund Member of $100 or more and gain ticket access before the public.
Amazon
Shop on Amazon.com using this link and Amazon will make a donation to The Midland Theatre.
Friday Flicks
Sponsored by The Licking County Senior Levy
You can purchase tickets by visiting our box office or calling 740.345.5483.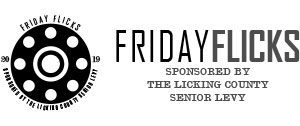 We often hear people say, "I watched movies here when I was a kid!" Now they have a chance to relive experiences past, and a whole new generation will have the opportunity to see these classic films on the big screen. We will be presenting a series called "Friday Flicks" sponsored by The Licking County Senior Levy featuring 3 fabulous classic films. The films will be shown at 2:00pm and 7:00pm, and tickets are free to Licking County adults 60 and up, $6 for adults and $5 for students. We hope you enjoy this amazing collection of classics...they don't make films like this anymore. No food or drink is permitted in the theatre.
October Sky
Sponsored by The Licking County Senior Levy
August 31, 2018 @ 2:00 and 7:00pm
Tickets: $6 (adults), $5 (students) and FREE to Licking County Residents 60+
To purchase, call 740.345.5483, visit our box office any time prior to the showing.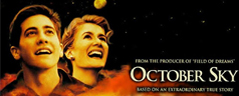 October Sky is a 1999 American biographical drama film directed by Joe Johnston, starring Jake Gyllenhaal, Chris Cooper, Chris Owen, and Laura Dern. It is based on the true story of Homer H. Hickam, Jr., a coal miner's son who was inspired by the launch of Sputnik 1 in 1957 to take up rocketry against his father's wishes and eventually became a NASA engineer.
"October Sky" is based on the lives of four young men who grew up in Coalwood, West Virginia. Most of the film was shot in rural East Tennessee, including Oliver Springs, Harriman and Kingston in Morgan and Roane counties. The movie received a positive critical reception and is still celebrated in the regions of its setting and filming.
Synopsis source