Kroger Rewards Program
All you need is a grocery list, a minute to fill out an online form, The Midland Theatre's NPO #80507 and a Kroger Plus Card.
Once your card is registered, Kroger will donate 5% of the value of your purchases to Midland Theatre! This WILL NOT affect your gas discounts.
Be sure to have your Kroger Plus Card handy. If you use your phone number at the register when you shop, call 877-576-7587 to get your associated Kroger Plus Card number. If you do not yet have a Kroger Plus Card, they are available at the customer service desk at any Kroger store.
Go to krogercommunityrewards.com to register online.
Click on 'Sign In/Register'
If you are a new online customer, click on 'SIGN UP TODAY' in the 'New Customer?' box. If you already have an account, login and proceed to step #7, below.
Enter your zip code, click on your favorite store, enter your email address, create a password, and agree to the terms & conditions.
Next check your email inbox and click on the link within the body of the message.
Click on 'My Account' and enter your email address/password to the account you created in step #3.
Click on 'Edit Kroger Community Rewards information & enter your Kroger Plus Card #.
Update or confirm the information.
Enter the NPO number 80507 (This Number is specifically linked to the Midland Theatre), select organization from list and click on confirm.
Please verify enrollment, you will see The Midland Theatre listed on the right side of your info page.
Amazon Shopping Link
Just follow this link to Amazon.com to shop and the Midland Theatre will receive a percentage of your total purchase.
Dining at Elements Restaurant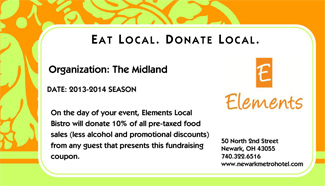 Our friends at Elements have been overly generous and have offered to donate 10% of the food and non-alcoholic beverages purchased if you bring along the card to the right and dine the evening of a Midland Theatre event. This percentage donation cannot apply to sales tax, alcoholic beverages, or to any guest check that receives another type of discount, coupon, offer or promotion.
Donor Levels & Benefits
Ticket sales, concessions and theatre rentals cover just over half of our annual operating budget. As a result, we must rely on the generous support of our community to help bridge this funding gap. Your support is needed to keep The Midland a dynamic and creative cultural force in our region.
Underwriter: $5,000+
Marquee Club Membership
Benefactor: $2,500-$4,999
Marquee Club Membership
Investor: $1,000-$2,499
Advance ticket purchase opportunity Artist Meet + Greet Opportunity Program Recognition
Patron: $500-$999
Advance ticket purchase opportunity maximum of Four Tickets Per Show Program Recognition
Supporter: $100-$499
Advance ticket purchase opportunity maximum of Two Tickets Per Show Program Recognition
Contributor: $10-$99
All Donors:
Our sincere thanks & a standing ovation!
Marquee Club
In recognition and gratitude for your support, all donors($1,000+) receive the following:
Invitation to The Marquee Club Reception, Advance ticket purchase opportunity, Marquee Message for a Day*, Artist Meet + Greet Opportunity & Program Recognition 2013