Roger McGuinn
Songs and Stories with Roger McGuinn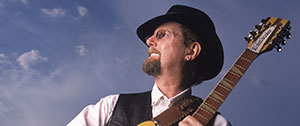 Jim McGuinn, later known as Roger, was already a veteran of the New York and Los Angeles music scenes when he co-founded the group that would become the Byrds with Gene Clark and David Crosby in 1964. Prior to forming the Byrds, Roger toured and performed with the Limeliters, Chad Mitchell Trio and Bobby Darin as a guitarist and banjo player. He was also the musical director on Judy Collins #3. McGuinn, a Chicago native, studied at the Old Town School of Folk Music and was active on Chicago's folk scene. Within a few weeks of finishing high school, he was in California with the Limeliters, playing guitar and banjo on their album "Tonight: In Person." He then toured with the Chad Mitchell Trio and recorded on their albums: "Mighty Day on Campus" and "The Chad Mitchell Trio at the Bitter End."
He toured with singer Bobby Darin, and then moved to New York to work for Darin's publishing company, in the fabled Brill Building as a songwriter. He and Frank Gari co-wrote the song "Beach Ball" and performed it with Darin, as the City Surfers, July 1963.
McGuinn heard the Beatles for the first time at the Brill Building, and began adding a Beatle beat to his favorite folk songs in the coffee houses of Greenwich Village. His experimental musical style didn't please the folk purists, so he moved to Los Angeles to work at the Troubadour opening for Hoyt Axton. It was there that Gene Clark approached Roger with an appreciation for his unusual musical blend. They joined their talents and began writing songs in the front room of the Troubadour, then called the "Folk Den."
David Crosby walked in one day and joined them with his unique concepts of harmony. That third voice completed the underpinnings of one of the most influential bands of the '60s. Within a few months, McGuinn, Clark & Crosby asked conga player Michael Clarke to join them as a drummer because he looked like two of the Rolling Stones. Mandolin player Chris Hillman was tapped to be the bass player. During a Thanksgiving dinner the band settled on the name "Byrds." Columbia Records signed the Byrds in January, 1965 and released their number one hit, "Mr. Tambourine Man."
When McGuinn disbanded the Byrds in 1973, he began his lifelong dream of a solo career inspired by folk singer, Pete Seeger.
This Grammy Award winning artist tours the world delighting audiences with the songs and stories from his long and continually productive musical career.
We are frequently adding great programming, doing ticket giveaways and much more, so stay connected with us!
Without the generosity of The Midland Theatre family and friends, we would not be what we are today. There are a number of ways you can be a part of something very special here at The Midland Theatre.