Matt Munhall & his Band and Friends: A Benefit Concert for Catholic Outreach Ministries
November 13, 2022 at 7:30pm
Tickets: $30
Buy Tickets Online or call 740.345.5483
For more info about ticketing, theatre conduct, etc. please visit our FAQ.
Read our policy regarding ticket brokers and scalpers here.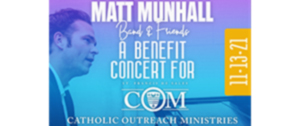 Inspired by the likes of Ray Charles, Bob Dylan, Billy Joel, Elton John, Frank Sinatra and the Beatles, Matt Munhall is excited to return to the public stage to kick off the Thanksgiving season with a night of music to support Catholic Outreach Ministries – a young, but rapidly growing organization the exists help underserved individuals and communities in Newark. Munhall has a gift of fully bearing his soul through his lyrics and of mesmerizing his audience with storytelling showmanship. He will be joined by his band and other special guest performers like John Schwab for this one-night experience where the concert will include a variety of classics in addition to songs from his six full-length albums. Prepare to be prodigiously entertained!
Columbus-based Munhall performed at 200+ shows annually throughout the US and Germany before becoming Director of Music at St. Francis de Sales in Newark, Ohio. Acclaimed musician and Nashville producer Brad Jones said, "Matt Munhall is musically gifted, unapologetically sensitive, unflinchingly honest, poetically tough, and if you don't believe me, just listen to his records!"
Catholic Outreach Ministries meets those in financial, material and spiritual need where they are to offer support. Founded in 2019, this young upstart is bringing hope to the darkest corners of the Newark community (and beyond).
We are frequently adding great programming, doing ticket giveaways and much more, so stay connected with us!
Without the generosity of The Midland Theatre family and friends, we would not be what we are today. There are a number of ways you can be a part of something very special here at The Midland Theatre.