The Robert Cray Band
October 1, 2021 at 8:00pm
Tickets: $65-$35 (price shown does not include fees)
Buy Tickets Online or call 740.345.5483
For more info about ticketing, theatre conduct, etc. please visit our FAQ.
Read our policy regarding ticket brokers and scalpers here.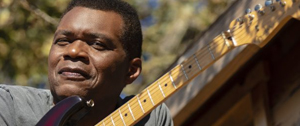 That's What I Heard as the title for this, but it does kind of fit. For example, the first time I played the album, I was struck by what seemed to me to be a distinct Sam Cooke vibe to the music, an impression initially sparked by the rollicking gospel groove of "Burying Ground," but also by the sweet singing and classic 6/8 feel of "You'll Want Me Back." It wasn't just the churchiness of the former, nor the tuneful sophistication of the latter; it was the way those two elements intertwined to create a feeling that was just as evident in the other songs.
Imagine my surprise, then, to hear drummer and producer Steve Jordan a week later, describing his vision for the album. "I thought if it we could get this thing that Same Cooke used to have, the kind of sound that early Sam Cooke records had, that we could pull this off," he said. Hey, that's what I heard!
From Jordan's perspective, getting that sound had two components. First, the artist has to be able "to perform at a live capacity, a very high level," he said "The way Robert sings and plays, that's at the highest level. So, boom. We got that." The second requirement is having the environment and personnel capable of capturing that sort of energy. In an age of bedroom studios and digital recording apps, there aren't a lot of people left who know how to capture that live-inthe-studio excitement. "Fortunately, the person who got that sound, I happen to know personally," Jordan explains. "And that's the great Al Schmidt," who Jordan paired with the equally excellent Niko Bolas. ("They're very close friends," he said.)
After Jordan put everyone into L.A.'s Capitol Studios — "one of the best studios in the world" — he had the perfect mix. "You have the great engineers, in a great studio, with a great artist" he said. "It's very hard to screw that up."
It also didn't hurt that Cray and his band came in hot from the road to begin work on the album. That much is audible in several tracks, most notably the irresistibly driving albumopener, "Anything You Want."
"We were at S.I.R., rehearsing in Los Angeles," he recalled. "We just we were just killing time, and then the chords came out. I started playing, and everybody fell into it, and it was there. We were in the mood, you know?"
In many ways, "Anything You Want" is classic Cray, with a blues heart powering a popsavvy melody, and a lyric that's less about love lost than the difficulties in keeping love around. The verse is three-chord simple with a sly turn-around on the bridge, but what makes the track work is the way each player does his part, with new drummer Terrence F. Clark laying down a rock-solid backbeat while Richard Cousin's bass provides funky counterpoint to Cray's jabbing rhythm guitar, and Dover's organ fleshes the sound out with a comfortable cushion of chords. Naturally, it ends with a guitar solo in which Cray, alternately gruff and lyrical, pushes the groove into overdrive.
We are frequently adding great programming, doing ticket giveaways and much more, so stay connected with us!
Without the generosity of The Midland Theatre family and friends, we would not be what we are today. There are a number of ways you can be a part of something very special here at The Midland Theatre.