TOTO
Dogz Of Oz Tour
March 18, 2023 at 8 PM
Tickets: $65 - $95 (does not include fees)
Buy Tickets Online or call 740.345.5483
For more info about ticketing, theatre conduct, etc. please visit our FAQ.
Read our policy regarding ticket brokers and scalpers here.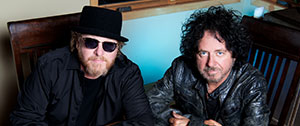 The DOGZ OF OZ WORLD TOUR is presented by Toto co-founder and musical director David Paich. Joining Steve Lukather and Joseph Williams on the road are new band members bassist John Pierce (Huey Lewis and The News), drummer Robert "Sput" Searight (GhostNote), and keyboardist / background vocalist Steve Maggiora (Robert Jon & The Wreck). Keyboardist Dominique "Xavier" Taplin (Prince, Ghost-Note) and multi-instrumentalist / vocalist Warren Ham (Ringo Starr) segued over continuing their tenure in the ensemble. This marks the fifteenth incarnation of the Toto line-up in consideration of band members or sidemen who joined or exited.
Collectively TOTO has over two billion streams worldwide on all streaming services. Just last year one of their biggest hits "Africa" went from being a Platinum single to being recently recertified 6X Platinum. The band has found a new generation of fans. With now 40+ years together and literally thousands of credits, including the biggest selling album of all time: Michael Jackson's Thriller, and accolades to their names, TOTO remains one of the top selling touring and recording acts in the world. They are the benchmark by which many artists base their sound and production, and they continue to transcend the standards set by the entire music community, being simply synonymous with musical credibility. They are pop culture, and are one of the few 70's bands that have endured the changing trends and styles continuing to remain relevant while enjoying their multi-generational global fan base.
We are frequently adding great programming, doing ticket giveaways and much more, so stay connected with us!
Without the generosity of The Midland Theatre family and friends, we would not be what we are today. There are a number of ways you can be a part of something very special here at The Midland Theatre.