I Am, He Said
Celebrating the Music of Neil Diamond
September 19, 2021 at 4:00pm
Tickets: $35-$29 (price shown does not include fees)
The rescheduled concert ticket will be honored. We will not re-issue tickets with the new date and time!
Buy Tickets Online or call 740.345.5483
For more info about ticketing, theatre conduct, etc. please visit our FAQ.
Read our policy regarding ticket brokers and scalpers here.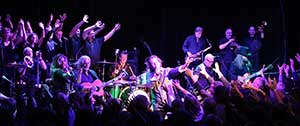 A Celebration of the Music of Neil Diamond - Starring Matt Vee, nephew of 60's Pop-Star Bobby Vee - This show will leave you wanting MORE! All of Neil's hits done with the utmost authenticity and respect. No glitzy Vegas BS! The show also features many intimate moments and stories of Neil's life, and a very touching nod to the their father and uncle Bobby Vee will leave you breathless!
With songs like Cracklin' Rosie, Song Sung Blue, and Sweet Caroline, Neil Diamond sold over 135 million records worldwide, and produced musical hits spanning five decades. A prolific song writer in the mid 60s, he penned songs recorded by everyone from Elvis Presley to Deep Purple and, of course, the Monkee's classic, I'm A Believer. Join Matt, Jeff, and Tommy Vee (nephew and sons respectively of the legendary Bobby Vee), for a celebration of this amazing music icon. After its debut performing to 23,000 fans at Joetown Rocks in St. Joseph MN, this wonderful show has been making its way to theaters and venues nationwide!
We are frequently adding great programming, doing ticket giveaways and much more, so stay connected with us!
Without the generosity of The Midland Theatre family and friends, we would not be what we are today. There are a number of ways you can be a part of something very special here at The Midland Theatre.