WAR
April 27, 2018 at 8:00pm
Tickets: $65-$45 (some ticketing fees may apply)

Please note, tickets purchased out of state will be held in Will Call for pick up.

Buy Tickets Online or call 740.345.5483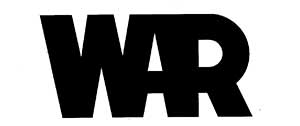 CURRENT ROSTER


Leroy "Lonnie" Jordan
keyboards, vocals (1969–present)


Stuart Ziff
guitar, vocals (2002–present)


Scott Martin
saxophone, flute (2017–present)


Stanley Behrens
harmonica (2011–present)


Sal Rodriguez
drums, percussion, vocals (1990–present)


David "Pug" Rodriguez
percussion, vocals (2011–present)


Marcos Reyes
percussion (1998–present)
The year was 1969, and these 'kids' had the nerve to carry the name WAR at a time when peace was the slogan in an anti-Vietnam America. "Our mission was to spread a message of brotherhood and harmony". Original Band Members included; Lonnie Jordan - singer/keyboardist, Howard Scott - guitars/ vocal, Lee Oskar - harmonica, B.B. Dickerson - bass vocals, Harold Brown - drums/ vocals.
The band's popularity has grown steadily over the decades, as a result of the commitment to being road WARriors combined with great increases television appearances, record sales, use of their music in film, television and commercials, samples and covers by other recording artists. A big shot in the arm to WAR's presence on the touring scene was the release of 1994's Peace Sign, an album well received by critics and fans. WAR now tours over 150 dates a year to audiences ranging from tens of thousands to intimate clubs.
WAR's global popularity is a tribute to the timelessness of its music and message. Perhaps, nothing epitomizes this truth greater than the fact that WAR has twice been honored by its hometown of Los Angeles, over twenty years apart, for its music making positive contributions to the betterment of the community. "The world is still a ghetto", says Lonnie Jordan, echoing the title of the early album and song. "There will always be a reason to play our songs. When you come back to reality, you pull down WAR, because WAR is reality. We have a lot of second-generation fans and they're seeing the same things their parents saw. They're hearing the same messages. We're like Levi's," says Jordan, "and there's nothing nostalgic about Levi's. In fact, they're not really good and funky until they've been worn awhile."
The evolution of WAR began in 1969...and WAR has been evolving ever since.
We are frequently adding great programming, doing ticket giveaways and much more, so stay connected with us!
Without the generosity of The Midland Theatre family and friends, we would not be what we are today. There are a number of ways you can be a part of something very special here at The Midland Theatre.
Kroger Rewards
Kroger will donate to The Midland Theatre every time you use your Kroger Plus Card!
Annual Fund Donation
Become an Annual Fund Member of $100 or more and gain ticket access before the public.
Amazon
Shop on Amazon.com using this link and Amazon will make a donation to The Midland Theatre.