How we are making
The Midland Theatre safe for YOU.
Consulting with The Licking County Health Department
Sanitation Processes
Distancing
Masks
If you have any questions please call The Box Office at 740.345.5483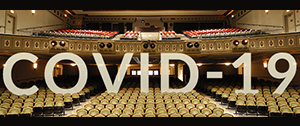 Consulting with The Licking County Health Department
We have met with local health officials on several occasions to walk The Midland Theatre in order to determine the safest experience for you, our volunteers and staff.
Sanitation Processes
We are working closely with Keck's Quality Cleaning, and their informed staff has suggested two hospital grade cleaning solutions for us to introduce:
Biotrexx™ is a total touch protection system where 100% of all surfaces are protected from the growth of dangerous viruses, germs, bacteria, molds and other harmful environmental pathogens for up to 30 days between cleanings. Our protective barrier reduces the risk of bacterial cross contamination on high touch, high risk surfaces.
Clorox® Total 360® System, the first system that pairs electrostatic spraying with Clorox® disinfectants and sanitizers. Electrostatic technology enables superior coverage into hard to reach places. Using the Clorox® Total 360™ Electrostatic Sprayer to apply Clorox® Total 360™ Disinfectant Cleaners gives you a healthier facility.
Distancing
We have blocked off every other row and are going to ask that you leave 4 seats between your group and the group next to you. The doors will be marked entrance and exit and tape will be place on the floor to encourage safe distancing.
Masks
Governor DeWine announced a statewide mask mandate will go into effect for citizens living in all 88 Ohio counties.
"Our preliminary data indicate that the rate of increase in new cases has slowed in the high-risk counties where masks are already mandated, so we are cautiously optimistic that things are heading in the right direction," said Governor DeWine. "We believe that requiring masks statewide will make a significant difference and will be key to making sure other counties do not progress to a higher level of increased spread."
All individuals in Ohio must wear facial coverings in public at all times when:
- At an indoor location that is not a residence
- Outdoors, but unable to maintain six-foot social distance from people who are not household members
- Waiting for, riding, driving, or operating public transportation, such as a taxi, a car service, or a private car used for ride-sharing.
We are frequently adding great programming, doing ticket giveaways and much more, so stay connected with us!
Without the generosity of The Midland Theatre family and friends, we would not be what we are today. There are a number of ways you can be a part of something very special here at The Midland Theatre.